How to illuminate your kitchen
The kitchen is one of the most utilized rooms in the house, known for snacking, eating, morning coffee, checking the fridge, or just hanging out without a purpose. We cook and socialize in this space, so adequate illumination will ensure the convenient preparation of dishes and a pleasant time for eating delicious meals.
Regardless of the size of the kitchen, it is crucial to choose lamps, spotlights, and ceiling lights of the correct size and, above all, to place them strategically, trying to avoid annoying shadow areas. Proper lighting design aids the optical enlargement of a small or narrow kitchen, improving the space for working in the cooking area and countertops.
Designing a precise lighting scheme demands three factors of consideration: natural light, the size of the kitchen, and the style we want to use.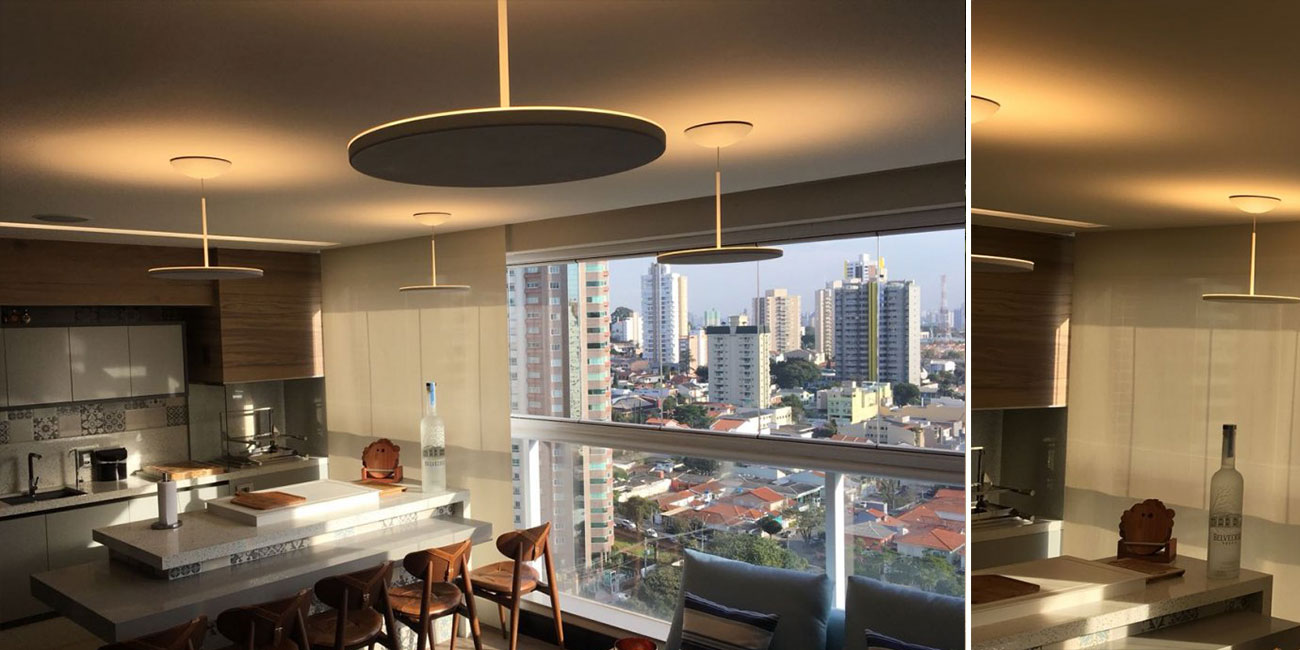 Windows play an imperative role in the layout of the kitchen space, and artificial light must compensate where outside natural light does not reach.
The first light to set up is general ambient light, coming from above through ceiling lights, pendants, and track or recessed spotlights and positioned to avoid poorly lit areas.
The size of the space helps us determine whether to use pendant lights or not: if the kitchen is sizeable, a pendant is perfect for the kitchen to appear less scattered, thus creating a more homelike environment.
If the kitchen is small or has a low ceiling, a large ceiling light is the best solution and can easily be combined with spotlights or wall sconces to create a cozy atmosphere.
In addition to a central ceiling light, it is possible to use adjustable spotlights distributed across the ceiling with a light shade that is not too cold; this solution is ideal for small or narrow kitchens.
There is not always a possibility to place a central light. In this case, a solution is to arrange wall lights around the entire perimeter to illuminate the space. Wall sconces should be installed just above the middle of the wall to add functionality and not just decor.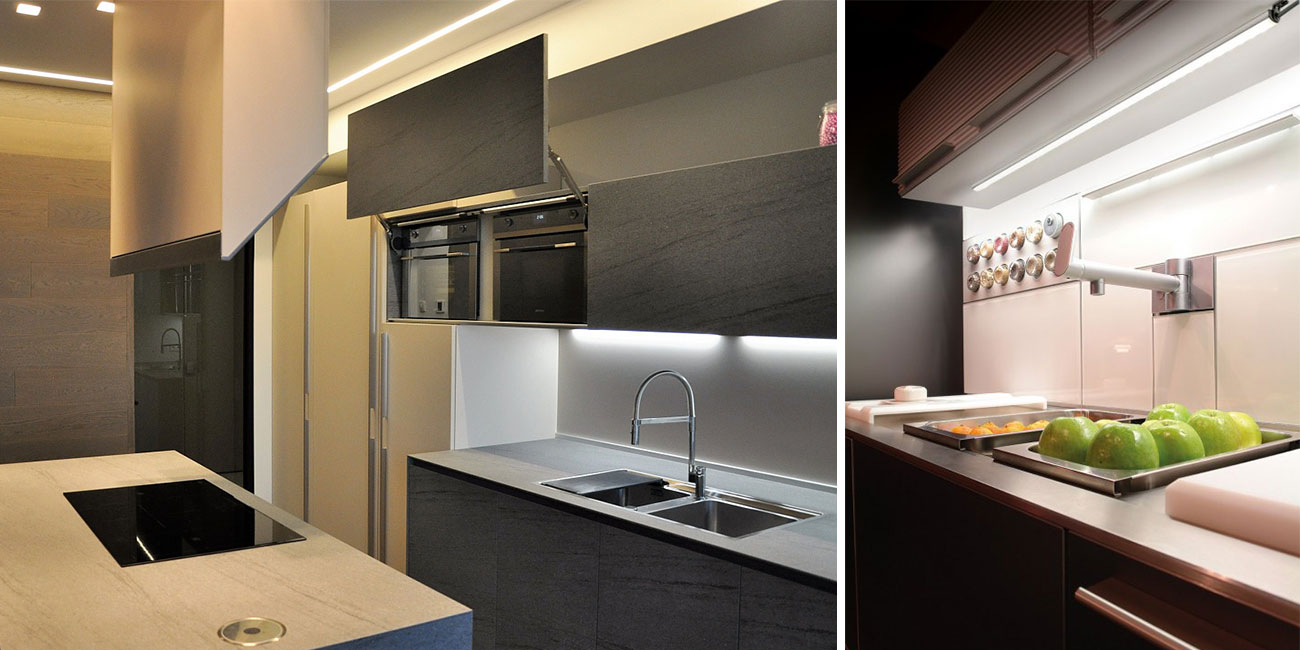 After general light comes functional, direct light dedicated to food preparation activities, like cutting all the veggies, baking your favorite cookies, or making tea before the snooze. Wall cabinets need proper lighting to improve the usage and add extra lighting where light is scarce, usually in the cooking and dishwashing area.
While light strips or spotlights are handy around shelves and wall units, orientable to the darker parts of the kitchen, allowing light adaption for various purposes and minimizing domestic accidents caused by insufficient lighting. Paying attention to the intensity of the light flow is crucial to avoid causing glare.
The dining area can be joined together with the kitchen, even if you do not have an open space or if the kitchen is small with spot-on lighting, you can differentiate the rooms by creating separate light focuses that visually divide the space.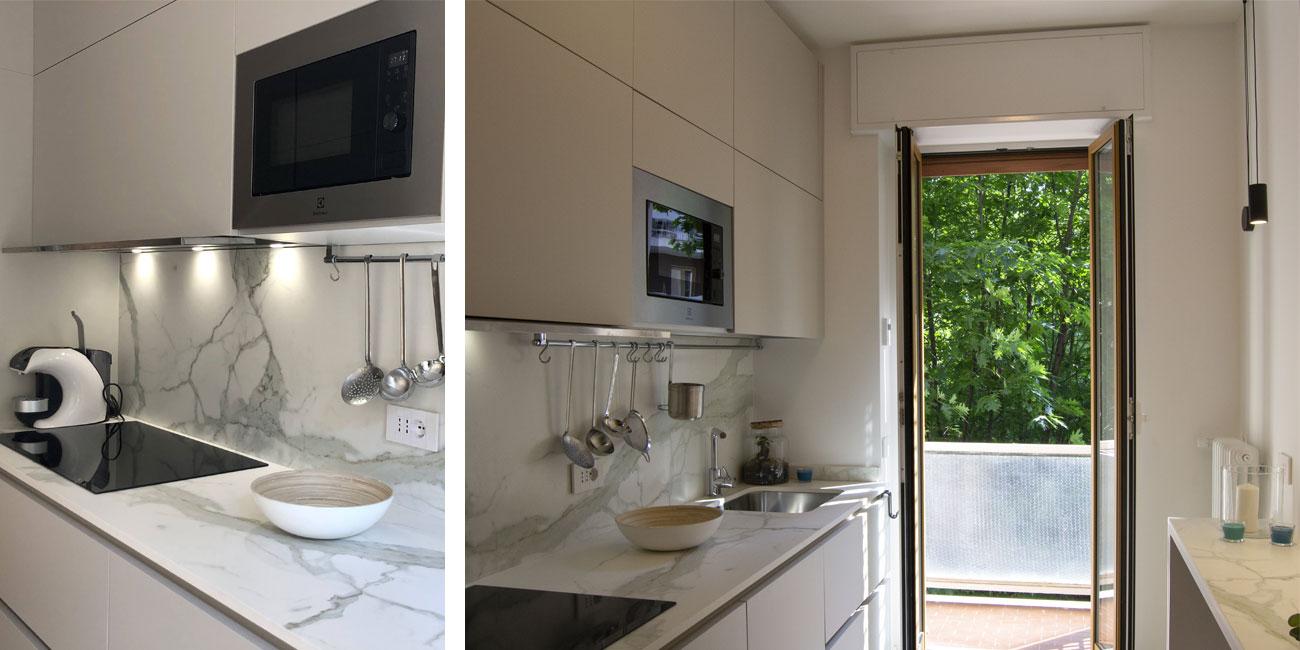 To create a cozy and inviting ambiance in your outdoor dining area use soft and warm lighting. Suspension lights are a popular choice for outdoor lighting due to their versatility and charm. Hang them overhead, crisscrossed across your dining area, or around nearby trees or pergolas. These lights provide a warm, inviting glow and create a magical ambiance.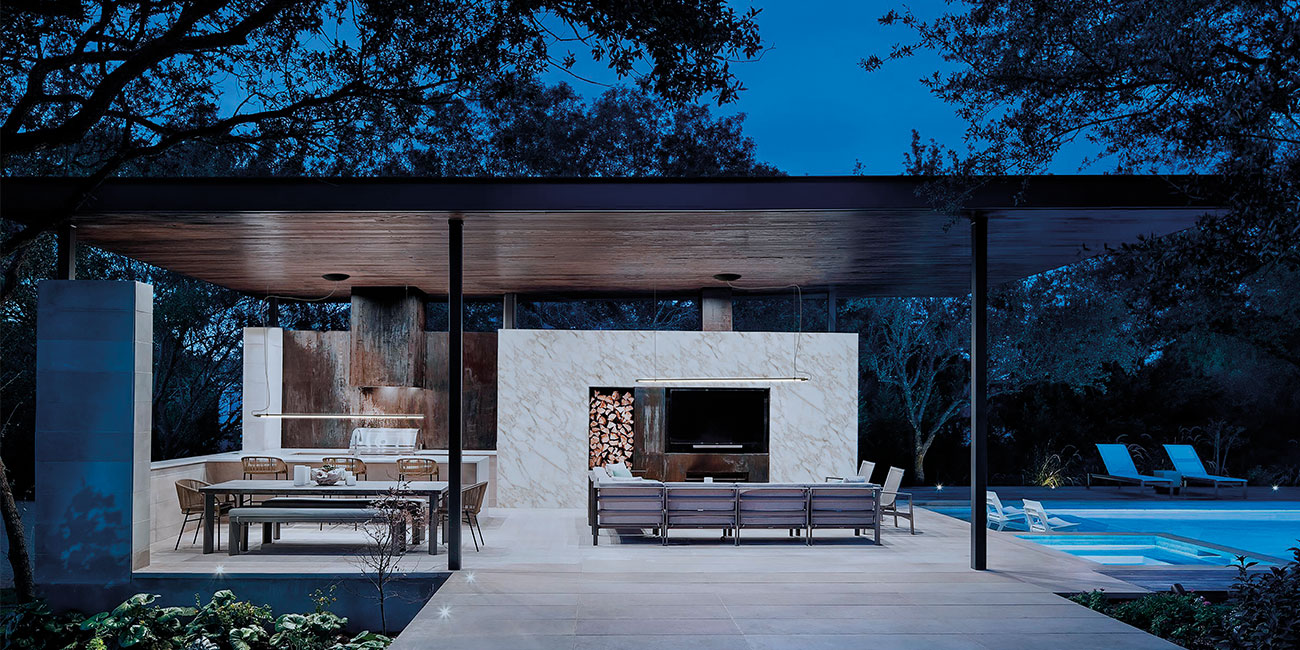 Consider spotlights or projectors for the specific features in your outdoor dining area that you'd like to highlight, such as a beautiful tree or an architectural element. These lights accentuate focal points and create a dramatic effect.